Heal My Heart Series :: 7 of 22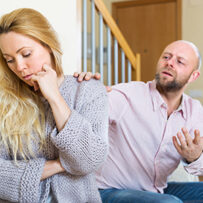 Be courageous—making amends is worth it.
Making amends. To bear your soul and admit that you have made a mistake, or said something you regret, takes a big person. To honor another as you would like to be honored, and treat another as you want to be treated, is a special gift you bring to yourself and the other person. To be open and vulnerable takes a lot of courage. Be courageous—making amends is worth it.
Receiving amends. When someone reaches out to make amends, be generous, listen, and let them apologize. It will set you both free. Remember to separate the person from their behavior—it'll be easier to let go of the hurt. It's also an opportunity for you to take inventory of what you did that might have hurt them and apologize.
Personal responsibility. Consider, we're all doing the best we can with all the negative experiences we've been through and the limited opportunities and options available to us to facilitate healing our hearts. The more information and transformational tools we have at our disposal, the more responsibility we have to use them.
Respect yourself. Even though you know that we are all doing the best we can, it doesn't mean you need to stay in a relationship with someone who is abusive, hurtful, or who won't participate in resolving challenges.
Does the Magical Healing Process really make a difference? Yes, you can read all about it in my Amazon #1 Bestselling book—and, I can assure you that with over 30 years of providing Mind/Body Repatterning™ breakthrough results, there is no hope in avoidance. Going into the unknown parts of yourself from your past may not be easy, however, it is necessary if you want to live a magical life.
There are only two predominant things going on in your life. You either have something you don't want (shame, blame, guilt, anger, envy, frustration, resentment, or regret). Or, you want something you don't have.
Is transformational support available? For those who want to have an extraordinary, remarkable, exceptional, outstanding, incredible, phenomenal, unbelievable, amazing, astonishing, astounding, marvelous, fantastic, magnificent, wonderful, sensational, miraculous, fabulous, stupendous, out of this world, terrific, awesome, and wondrous life, feel free to book a Mind/Body Repatterning session with me at ExtraordinaryOutcomes.com.
What can I expect from my session? We will identify and release negative beliefs, thoughts, feelings, behaviors, habits, and detrimental patterns that prevent you from living a magical life. After your session is complete, the ability to experience more love, adventure, creativity, passion, and joy is possible.
Lovingly Submitted,
Victoria Benoit, M.C.
602-864-7662
Mind/Body Repatterning Practitioner, Speaker, Bestselling Author
Success Stories abound!
"Humility leads to strength and not weakness. It is the highest form of self-respect to admit mistakes and make amends for them." ~ John J. McCloy