How to Love Series :: 15 of 17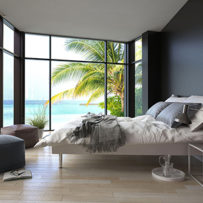 Designing Your Ideal Home Life
Living consistent with your purpose, what would your ideal home life look and feel like? Your physical environment is integral to how you experience living in your home. It is where you go for respite and rejuvenation. A home is often a reflection of the thoughts and beliefs of the individuals living there. I notice that when my home is cluttered, my mind is scattered.
I created my ideal home life by examining the questions below:
• Where would I like to live?
• What kind of house do I want?
• Who is living with me?
• Am I working from home?
• How would I decorate my home?
• How would my home be organized?
• What would I experience living in this environment?
My Ideal Home Life
My beloved Bernie and I live in a beautiful 3,000sf four-bedroom, plantation-style home that sits on a tropical peninsula overlooking a private, white, sandy beach. A flowing set of stairs descends casually down to the water's edge providing access for our long, romantic walks at sunset. We enjoy breathtaking ocean views from the lanai that wraps around the house.
Our floor plan is arranged according to Feng Shui principles. From the entrance, our master bedroom is intentionally located in the far-right corner of the home to nurture our intimate, harmonious relationship. My home office, with a separate client entrance, is strategically situated in the far-left corner to enhance my healing practice, support my creative writing, and promote financial abundance.
The kitchen opens to the great room with its magnificent, panoramic view of the ocean. It has a large island, polished white quartz countertops, birchwood cabinets, and white appliances. The great room has 14-foot cathedral ceilings; reclaimed teak hardwood floors; room for an exquisite, hand-crafted dining room table that expands to seat up to sixteen; and soft, comfortable leather furniture for relaxing and entertaining guests.
From his on-site executive studio, Bernie advertises and manages our two, tiny-house, short-term, vacation rentals located on our lush, meticulously landscaped, three-acre estate. We employ a full-time groundskeeper and a housekeeper who live in a quaint, little casita set back from the main house, surrounded by a lovely, organic vegetable garden. There is also a three-car garage with an adjacent, fully-equipped workshop where Bernie re-purposes flea-market finds and donates them to homeless shelters.
My life and my home are organized—there's a place for everything and everything's in its place. Each room has its own eclectic character and is tastefully decorated. All of our personal and financial affairs are in order, allowing us to really enjoy each other's company, deepening our intimacy.
Our home provides the environment for relaxation and rejuvenation. Bernie and I are very happy and continue to support each other's greatness as we enhance the lives of others who enter our home.
Love and Be Loved
Restoring love in all areas of my life make a real difference. You can read the guide to living an extraordinary life in my Amazon #1 Bestselling book—What Would Love Do Right Now?
Consider there are only two predominant things going on in your life. You either have something you don't want (shame, blame, guilt, anger, envy, frustration, resentment, or regret). Or, you want something you don't have.
Support is Available
With over 30 years of providing Mind/Body Repatterning breakthrough results, feel free to schedule a session with me at ExtraordinaryOutcomes.com. Sessions available in person or by phone.
What can I expect from my session? We will identify and release negative beliefs, thoughts, feelings, behaviors, habits, and detrimental patterns that prevent you from living an extraordinary life. After your session is complete, the ability to have more love, adventure, creativity, passion, and joy is possible.
Lovingly Submitted,
Victoria Benoit, M.C.
602-864-7662
Mind/Body Repatterning Practitioner, Speaker, Bestselling Author
Success Stories abound!