Relationships Begin and End with You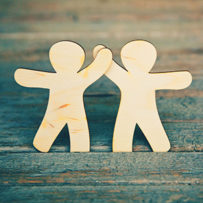 Consider that you're in a relationship with everyone—from your banker to your lover and everyone in-between. Relationships can be uplifting or debilitating. How you experience relationships depends on how YOU interact with others. Every interaction counts.
Experiment. An attitude of gratitude. How do you relate to customer service representatives? Do you honestly believe the person at the phone company intentionally made an error on your bill? Are you condescending? Are you confrontational? Or, are you courteous? I've noticed that the more loving, friendly, and compassionate I am to the person, the more they respond in kind.
So, try interacting with everyone the way you would like to be treated, and notice the difference.
Experiment. You get what you give. My mom and dad were married and had four children. My father moved out when I was 11. He subsequently remarried and had three more children.
Every month I would call my father to feel like I was part of his life. On the call, he would mostly report how things were going with HIM. He would also share about all the fun activities he was doing with his new family. I felt envious to have missed out on having that kind of fun with him. I also felt unimportant since he rarely inquired about how things were going with me.
What was missing for me was acknowledgment. I wanted to know that I still mattered to him. So, I started acknowledging him for being such a great father and how fortunate his other three children were to have so much fun with him.
Within two phone calls, there was an amazing transformation. My father started asking about what was important to me and my career. He began telling me how important I was to him. He also acknowledged me for the difference I made in the lives of my clients. This was something he had never done before. So, by giving my dad acknowledgement, I experienced the very thing I thought was missing.
So, try to identify what's "missing" in a specific relationship. Then, start giving it generously to that person and notice how quickly you experience what you thought was missing.
Lovingly Submitted,
Victoria Benoit, M.C.
Healer, Speaker, Amazon #1 Bestselling Author of:
What Would Love Do Right Now? A Guide to Living an Extraordinary Life
Let me know how I can further support you. Success Stories abound! Book Online today. Sessions available in person, on phone or by proxy (without your direct participation).