Tips to Manifesting Money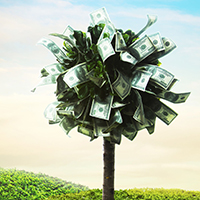 Raise Your Vibration
Refrain from letting the voice in your head harbor any additional negative beliefs about money as it will sabotage your financial goal.
Feel Prosperous
Prosperity feels like ease, vitality, eagerness, passion, fun, capable, freedom, & happiness. Imagine how it feels to have $X in the bank, or what it feels like to have this or that now.
Integrate
Set at least two reminders/day on your phone to read your ideal financial future aloud. Also affirm aloud, "By the Law of Attraction, the better I get at resonating with prosperity, the easier money will flow to me."
Affirmations to Repeat Daily
I accept that I am a vibrational being and as such I am already abundant and plentiful.
I accept that the Universe responds to my energetic vibrations.
I accept that the Universe provides relationships, experiences and outcomes that match my vibrational frequency.
I accept that my unconscious mind is in alignment and already flowing harmoniously with my desires.
I accept that I am already at peace and believe that things happen FOR me and not TO me.
I accept that the moment I embrace my peace within, and surrender to the outcome, is the moment the Universe can truly get to work.
I accept that my ideal financial future is already present and available.
Lovingly Submitted,
Victoria Benoit, M.C.
Healer, Speaker, Bestselling Author
Let me know how I can further support you. Success Stories abound! Book Online today. Sessions available in person, on phone or by proxy (without your direct participation).