Heal My Heart Series :: 6 of 22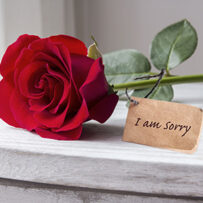 The way to release this bitterness is through forgiveness.
Let's talk about forgiveness. Dr. Rick Hindmarsh said, "I have been a physician for four decades and have seen more lives destroyed by bitterness than cancer, addiction, heart disease, diabetes, and contagious diseases combined."
The moment we take on the harm of an incident, bitterness sets in, which can destroy us physically, emotionally, mentally, and spiritually. The way to release this bitterness is through forgiveness.
Be at peace. Doreen Virtue, PhD., Counseling Psychologist, states, "Forgiving someone doesn't mean what they did is okay, it simply means that you are no longer willing to hold onto any negative feelings in response to what happened—you don't have to forgive the ACTION, just the person—so you can be at peace."
Restoring the relationship. Stephen Marmar, in a Prager University video, states that, "Exoneration can occur when a person is truly sorry for hurting you and takes full responsibility (without excuses) for what they did, as well as assures you that they will not do it again—it wipes the slate entirely clean and restores the relationship."
Give back the guilt. Bert Hellinger's Family Constellation Forgiveness Theory explains that it is not up to us to forgive. Since we generally want to have peaceful relationships, we unconsciously take on the pain caused by others, along with any guilt for their behavior—in the hope they will harm us less. Therefore, it's up to the person who caused the harm to take responsibility for their behavior and ask the Divine to forgive THEM. Our job is to energetically allow them to take back the guilt and pain they caused, so we can heal. The use of this approach is especially effective for people who have been abused.
Forgiveness is not a feeling, it's a decision. Keep in mind, forgiveness is different than trust. Forgiveness is granted. Trust is earned. Each path to forgiveness can be of value depending on your circumstances.
Does the Magical Healing Process really make a difference? Yes, you can read all about it in my Amazon #1 Bestselling book—and, I can assure you that with over 30 years of providing Mind/Body Repatterning™ breakthrough results, there is no hope in avoidance. Going into the unknown parts of yourself from your past may not be easy, however, it is necessary if you want to live a magical life.
There are only two predominant things going on in your life. You either have something you don't want (shame, blame, guilt, anger, envy, frustration, resentment, or regret). Or, you want something you don't have.
Is transformational support available? For those who want to have an extraordinary, remarkable, exceptional, outstanding, incredible, phenomenal, unbelievable, amazing, astonishing, astounding, marvelous, fantastic, magnificent, wonderful, sensational, miraculous, fabulous, stupendous, out of this world, terrific, awesome, and wondrous life, feel free to book a Mind/Body Repatterning session with me at ExtraordinaryOutcomes.com.
What can I expect from my session? We will identify and release negative beliefs, thoughts, feelings, behaviors, habits, and detrimental patterns that prevent you from living a magical life. After your session is complete, the ability to experience more love, adventure, creativity, passion, and joy is possible.
Lovingly Submitted,
Victoria Benoit, M.C.
602-864-7662
Mind/Body Repatterning Practitioner, Speaker, Bestselling Author
Success Stories abound!
"When you hold resentment toward another, you are bound to that person or condition by an emotional link that is stronger than steel. Forgiveness is the only way to dissolve that link and get free." ~ Catherine Ponder